Yes, you read that right: five boring runners who will make even you want to be on Snapchat. For you non-Millenials or the otherwise uninformed, while you might find a topless Mo Farah or Usain Bolt on a few random snaps, the game has changed from the sexting/let-me-send-you-a-pic-of-my-stick-and-ball-sports app to the anything-goes-in-sharing-random-sh*t app. If you're not familiar with this thing that all the kids are using these days, think of it as an extension of reality television … without the editing. You'd think that would be a bad thing. And it is; it's awesomely bad.
People often complain that runners are boring and have nothing to offer us. Well, these runners on Snapchat are dispelling that myth. If you're a current snapper and you don't follow these top runners already, be sure to add them to your list of friends. And if you're lucky, they might just follow you back.
Mo Farah (mofarah83) Recently called out in a Letsrun thread for being "out of control," Mo snaps daily. From videos as he's driving to practice jamming to music to pictures of the TV screen showing him playing FIFA his snaps usually feature some sick beats that will pump you up for your next run. If nothing else, you get a sneak peak of his gregarious personality. Oh, and his abs.
Usain Bolt (ugoboss1919) There's never a dull moment in Usain's world. Like Mo, he invites you into the world of Olympic-caliber athletics, including workouts, some handlers attempting his workouts (ha!), and a showcase of the work he does to give back to the community.
Matthew Centrowicz (mgcentro) – While some of us may wish his snaps could take us back to the original days of, um, five-second sexting, the rest of us can tag along for some good clean fun, like going to the Barber Shop. Or staring at a spider climbing on his wall. Ahhhhh!
Alysia Montaño (alysiamontano) – Best known for kicking butt in the 800 at 8 months pregnant, Alysia shares videos and pictures of her kiddo (now 21 months old) and hubby doing regular people things as well as getting out and enjoying the latest Beyonce concert or wine festival.
Lolo Jones (lolojones) Lolo gets into all of the fun of Snapchat, sharing her workouts in action, telling crazy stories and opening up her personal life to the public eye, complete with at least one lens snap a day. If the word lens doesn't ring a bell, maybe a face swap does instead? 'Cause yeah, that's a lens. See, you're getting the hang of it!
***
Other notable runners who snap: Sanya Richards Ross (sani400), Tyson Gay (tysonlgay), Asafa Powell (kasafa), and Tiffany Porter (tiffporter)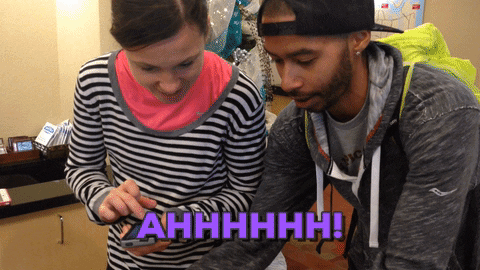 Do you snapchat? Are there any other runners that you follow not listed here? 
Follow me (jinger.nicole) or Pumpkin (teresademers) or Cinnamon (squirrelwac) or even … gasp … Salty (oneosalt)!