I have something on my chest that I'd like to discuss, something very close to my heart. Two somethings, in fact.  What I'm going to talk about today is a factor that weighs heavily on some of us but is a light topic for others.  I'm sure you've been sore on the subject and wanted to keep it locked up, but maybe you'll feel better if you just…let it all out.
Dear readers, sit back, relax, take your shirts off if you like and join me as I investigate something many have explored but few have conquered. Let's talk about boobs.
If you're like me your running bra is the second only to your shoes in its importance as a piece of sports equipment.  I mean, my boobs aren't huge or anything but just because my chest is a small matter doesn't mean finding a bra is too.  I have had the unfortunate experience of running in a regular bra and it was a lot like trying to run in kitten heels: it's awkward, things don't land in the right places, and after about a hundred meters it starts to hurt.
For years I was running in cheaper compression style bras that squash my breasts down into my chest, but I've been curious about encapsulation bras, bras that offer two separate cups to divide and conquer.  I purchased (and love) a Lululemon Ta-Ta Tamer, but as summer approaches I'd really like something I can wear on the outside.  Something that…well…doesn't look so much like a bra.  Before I set off to find the perfect hybrid, I wanted to understand why my not-so-big boobs hurt when I run.  Naturally I turned to science.
As an arts student in college I hadn't studied the reproductive system since about ninth grade, so I started my Braject with a little crash-course in anatomy.  I'm certainly not the only one who's been researching my boobs lately (hey-o!) but this time I was actually interested (zing!).  As I poked and prodded I enlisted the use of visual aids to provide me with a reference point. The Mayo Clinic's website has a great slideshow that illustrates the different systems that have parts in your boobs, but for our purposes we'll use this basic illustration: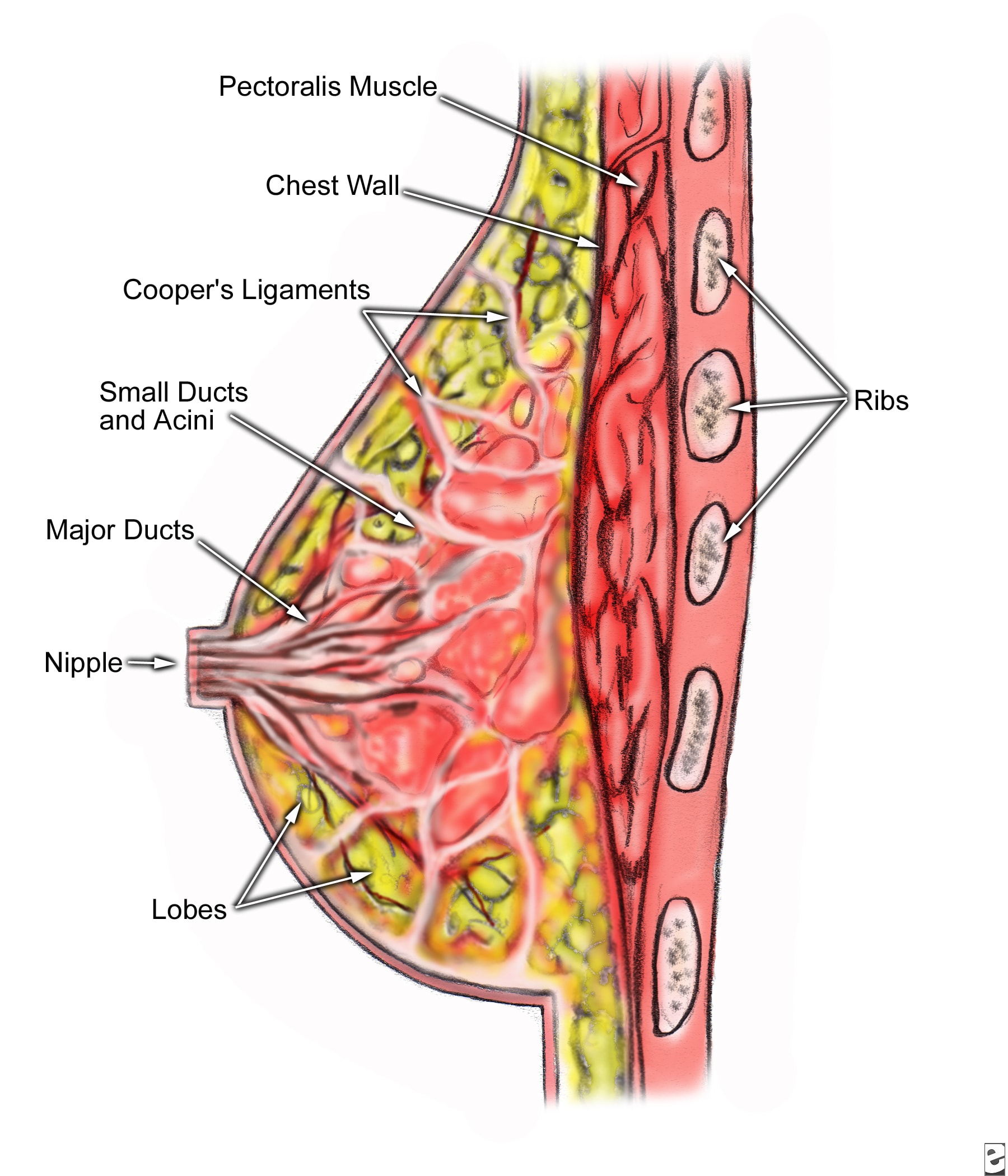 As you can see, the business parts of your boobs are essentially suspended in a layer of fat that lies on top of your chest, so your pectoral muscle doesn't really come into play when supporting your boobs.  From this I draw two main conclusions: A) this is why they're fun to jiggle and B) there's really no amount of chest exercises you can do to help support them.  The main supporting structure of your boobs are the Cooper's ligaments, which cross through the fat to attach your skin to the milk-producing lobules (what a gross word).  According to several articles I found, there is evidence that suggests these ligaments can stretch and tear during high-impact exercise.  If you feel any breast pain after or during your training, it's probably due to strain on these ligaments.
Most sources speculate that the strain is caused by the distance breasts move during impact but I found several sources (including Scientific American and LiveScience.com) that cite a UK study showing pain tends to increases when bouncing speeds up rather than increases in distance. What that means is that runners get the worst of it compared to other types of athletes, regardless of breast size. Additionally, the faster you run the more likely you are to suffer some strain.  Maybe that's the real reason why you don't see too many well-endowed elites.  I wonder.
What drives me crazy is that articles about the best bounce-resistant bras abound but almost every one I found approached bra selection from a large-breasted perspective.  And for you big girls, I know you have a tougher time, but what if I have small boobs and I'm still feeling the pain?  This Self Magazine article is a great jumping off point, but they don't give any examples of bras to try. This RW article has some good ideas for big jugs and little ones alike but there isn't a lot of information there to back up the bras they suggest. Bounce by Title Nine has a really good bra finder, but I really wished for more options than they offered–especially options that make me feel comfortable taking my shirt off.
So what's the answer? What's the best way to find the best sport bra?
As far as I can tell, the answer is you just go try on a sh*tload of bras until you find one that you like. And hopefully it won't chafe you to hell after mile 5 – or mile 10 – or, in Clove's case, mile 74.  I know it sucks, and I'm sorry to have to bring you that news, especially since I know how hard it is to find options in smaller cities.  Here in NYC I'm pretty spoiled with Lululemon, NikeTown, Paragon, Jackrabbit, Urban Athletics and a thousand specialty lingerie stores.
But for those of you who live in smaller towns, there's hope!  Hope in the form of bouncing boobs!
This article covers the same study as the Scientific American blurb I referenced above but linked me to HerRoom.com, which is an online retailer that has taken the above mentioned research to a consumer level with The Bounce Test, a series of videos that highlight what a 34D model's boobs do when she runs in different sport bras.  I still think you should try on a bra before you buy it if you can, but these videos are pretty great if you can't. And they're fun to watch, too! Check out an example: