The U.S. Olympic Marathon Trials is the highest-profile marathon in this country before the Olympics themselves. For any athlete, even the most seasoned marathoner, running in the Trials with dozens of the country's best distance runners is a big deal. No matter what some bitter LetsRun troll says, earning a spot on the Olympic Trials starting line is hard. To make it there, a woman had to qualify in one of the following ways:
Run an "A" standard* 2:37:00 or faster marathon between October 2013  and January 17, 2016.
Run an original "B" Standard 2:43:00 – 2:37:01 marathon between October 2013  and January 17, 2016.
Run a half marathon in 1:15:00 or faster between October 2013  and January 17, 2016.
As of December 11, 2015, have run a modified "B" Standard* 2:45:00-2:43:01 marathon since October 2013 or run one before January 17, 2016.
*Nine weeks before the Trials, on December 11, 2015, the USATF loosened the marathon "B" standard to 2:45:00, adding a new group of qualifiers who had run between 2:45:00 and 2:43:01 and enticing runners to make a last minute go of it. Many of those who benefitted from this rule change were not training for a marathon when they found out they could compete in L.A. and others who seized the opportunity to qualify after the rule change raced marathons as close as 27 days before the Trials.
With so many ways to qualify, we wondered whether how a runner qualified affected her likelihood to perform well. So we looked at the differences in outcomes between those who conventionally qualified with a full marathon in either the "A" standard or original "B" standard versus those who qualified with a half, and those who qualified with a new "B" standard time between 2:45 and 2:43.
Let's start with the basics. Of those who started the Trials marathon:
33 qualified with a "A" standard full marathon;
102 with an original "B" standard full marathon;
29 qualified with a 1:15:00 or faster half marathon; and
34 qualified with a loosened "B" full marathon.
First let's start with the half marathoners. Who were they?
Of the 29 women who qualified with a half, the top performer was Janet Bawcom, who finished in fifth place. Janet also placed fifth in the 2012 Trials Marathon, which was the last full marathon she's raced. She qualified for the 2016 Trials with a blistering 1:10:46 in January of 2015. Jessica Odorcic, was the only other half qualifier to have raced a full marathon. She qualified for the Trials with a 1:14 half in 2014, but previously ran one marathon in 2:51. That left 27 women on the start line who were first time marathoners.
Those 27 women lined up Saturday to challenge themselves, attempt something new, and to show those who questioned their right to be there that they were wrong. Of those 27 women, six of them ran faster than the (modified) 2:45 full marathon standard in the grueling conditions and only five of them dropped out, 17.2%, a much smaller DNF percentage for women half qualifiers than men half qualifiers and, as you will see, than women who qualified with full marathons under either the original or modified standards.
After Janet Bawcom, Erin Osment was the fastest finisher of the half-qualifiers, with a 2:40:42 and 18th place. Coming in behind her at 2:43:06 in 24th place was Keely Maguire, the 25 year old single mom who used her experience at other race distances to help her through. She started very conservatively, she stuck to her race plan, she adjusted her fueling mid race as necessary, and when she finished, she wondered what she could do with more experience. Successful first marathon, I'd say so! 
Half qualifier, Stephanie Dinius did everything she could to stay on track throughout the race. "The last 6 miles were mentally, emotionally and physically some of the toughest I've ever run in my life." Yet, she finished and finished well, coming in 45th place with a 2:46.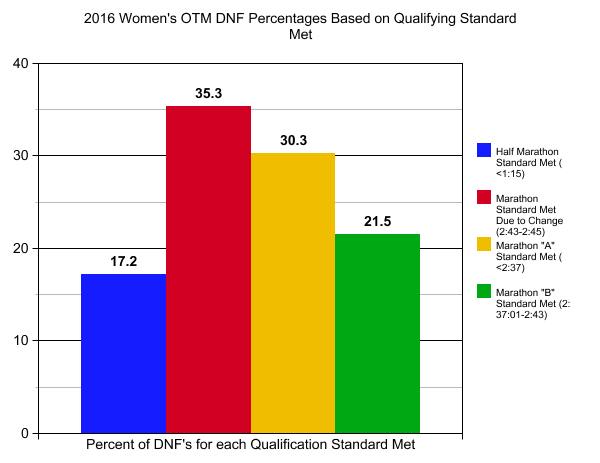 Next, let's look at the 34 Trials participants who qualified with a modified "B" standard. Some of these women, like Joanna Zeiger, ran her qualifying time in early 2014 and had long since resigned herself that she wasn't going to be at the Trials race, but on December 11 2015, she discovered she had two months to get in marathon shape. Back in December we asked her how she celebrated the news and she succinctly nailed it by saying, "I'm going for a long run." Others like Katie Scheimann who qualified with a 2:43 and change on the last day of the qualifying window, 27 days before the Trials, only went for it because of the standard change, but this meant she had 27 days in between running the best marathon of her life to recover and bounce back to race in the extreme conditions of L.A.
With so many of this group of qualifiers finding themselves with less than ideal preparation for the race, how did they do? Of those 34 women, 22 of them successfully finished the race. Melissa Burkart, whose 2:43:40 at the Lakefront Marathon on October 14, 2015 became a qualifier on December 11, 2015, was the fastest of this group finishing in 2:50:20. On average, those who entered the race with a modified B standard fared the worst of all groups, with the finishers running slower times and with the most members dropping out, 35.3% of those who started did not finish and 36% of those who finished over three hours were from this group, including Amy Robillard (3:00:11), Alexandra Varanka (3:00:44), Lisa Baumert (3:03:59), Katie Schiemann (3:05:03), Nora Colligan (3:07:33), Connie Teague (3:07:39), Amanda Scott (3:09:08), Becki Spellman (3:11:32), and Joanna Zeiger who finished last in 3:23:28.
Overall, almost a quarter of the entire women's Trials field dropped out, 49 of the 199 who lined up. There's no doubt the brutal conditions played a big role in this statistic. However, prior marathoning experience seemed to have no benefit. In fact, qualifying with a half marathon seemed to be a benefit. Was it the excitement of racing a first marathon that fueled marathon newbies to the finish? Maybe ignorance is bliss and they didn't know what that last lap would be like until they were too far in it to turn back? Or maybe being able to meet the relatively tough 1:15:00 standard made this group particularly tough cookies.
While some argue the USATF should do away with the half standard for the marathon Trials, the results on the women's side show that not only can it draw in contenders like Janet Bawcom, overall the half marathoners perform better than many of their more marathon-experienced counterparts. If anything, if the USATF wants a more competitive Trials field, the B standard should be tighter or at a minimum, don't change the rules so late in the game when competitors do not have adequate time to prepare.
*The "A" standard applies only to the full marathon and was 2:37:00 or faster for 2016. The only significance was that the host race would offer some financial support to those qualifiers.