They say everything old is new again and this holds true in running fashion. Minimalist shoes: so 70's. Knee socks (functional and otherwise): so 80's.  As in the greater fashion world, the running scene is just going back to the 90's. Trendsetting Nike has reintroduced some of it's 90's styles including the Pegasus and the Huarache.
Since Salty Running is oh so cutting edge, we've decided to help you decide which decade's fashions best suit your personal style. So without further ado, the latest super-scientific Salty Running quiz:
70'S, 80'S OR 90'S WHICH DECADE'S STYLES ARE SO YOU?
1. Which of the following sounds like your typical date night:
A. Riding a tandem bike along the boardwalk.
B. Champagne, caviar and rose petals.
C.  Hanging at a coffee shop discussing feminism and the environment.
2. What's your preferred music genre:
A. Easy Listening.
B. Heavy Metal.
C. Jazz.
3. If you were stranded on a desert island which of the following would you most like to have with you:
A. Baby oil to work on your tan.
B. Manicurist.
C. Your discman and your favorite Spin Doctors CD.
4. What style of shoes best suits you:
A. Roller skates.
B. Stilettos.
C. Wedges.
5. You're thirsty. You are most likely to reach for a:
A. Tab.
B. Crystal Pepsi (but coach might have to open the can so you don't break a nail).
C. Snapple.
6. Which of the following sounds most like your typical run:

A. Easy Jog, sun-kissed locks flowing in the breeze and winking at all the fine looking men you pass.
B. As fast as humanly possible.
C. Long slow distance with an occasional break to snack on a power bar.
RESULTS
If you answered mostly A's:
Your decade is the 70's. This decade's running fashions suit your carefree attitude. The 70's offer short silky shorts, flattering fitted T's, ascots and hairy chested companions. The white shorts, the wild hair and the no bra thing all express how few cares you actually have.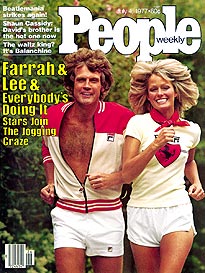 If you answered mostly B's:
Your decade is the 80's. This decades styles suit your high intensity and high-maintenance attitude! Metallics, spandex, strange high-waisted panties over everything, weird gold neck things and 6 inch long nail murals are all you baby.
If you answered mostly C's:
Your decade is the 90's. This decade styles suit your down-to-earth practicality. It's the decade when the Saucony Jazz weighed 2 lbs a piece, the running bras were full-coverage and the shorts were high-waisted offering plenty of space to pin your race number. And let's not forget how subtly sexy these styles were allowing you to highlight that perfect 1.5 inches of midriff between your waist and your boobs.
I'm totally a 70's girl. What decade are YOU?