The day you're born. The first day of school. Your first kiss. Your first day in a real job. These are almost universal monumental moments in any girl's life, but in the life of a marathon runner another milestone will always be notched in our memories: the first time we toed the line and finished a marathon.
Maybe your first was slow, or maybe it was faster than you dreamed. Maybe it wasn't quite what you hoped or perhaps it was the best race ever.  But no matter how it went, you'll only ever have one first marathon, and in that it's special.
Today, we share memories from our first marathons and hope to hear about yours as well.  And this fall as you embark on your big race–be it a marathon or a mile, be it your first or your fifteenth, whether you're a veteran road warrior or still considering if the marathon is for you–we hope our stories inspire you and maybe make you laugh a little too!
SALTY
It was a cold October morning in 2006, yet I bravely listened to my boyfriend's (now husband) advice and donned only my singlet, shorts and favorite dollar store green stretch gloves. I was freezing standing there and so nervous: could I really pull this off?
The gun sounded and off I went. Because I was so naive I really didn't worry much about splits, I just clicked the lap button on my boyfriend's fancy Timex at each mile marker. I had a minor annoyance in the early miles when a guy in see-through white spandex went back and forth with me for several miles, but eventually I dropped him. People along the way cheered for my bright green gloves, which made me smile and remember that running was fun![pullquote]Fact: Salty had SR's fastest debut marathon, but Rosemary and Pepper have faster PRs, by 17 and 21 minutes, respectively![/pullquote]
The middle miles were a little lonelier and a little hillier and my pace fell off a bit, but somehow I didn't worry about it too much, and then suddenly I was at mile 20. Just as my boyfriend had coached me I started to get excited and picked up the pace.  I felt great. I saw my boyfriend at mile 21 and he encouraged me to pick it up since I looked comfortable, so I did. I kept going and passing person after person. I felt amazing and invincible. The sun was out, the air was crisp and I was flying through the streets of Columbus. I had tears in my eyes as I turned the corner to the finish, still passing everyone in sight. And then I heard my mom cheering for me just a few meters from the finish of my first marathon! I did it! I ran a huge BQ by almost 15 minutes (3:25:31) and just 2 years earlier I couldn't run 30 minutes straight. Wow. The power of running!
My full race report is here.
GINGER
My first marathon was Akron, 2004. It was everything a first marathon is supposed to be: scary, exciting, adventurous, and tearful. Looking back now, I really had no business running one as my longest run was 12 miles and I was only averaging up to 25 miles a week! Even though I'm hesitant to admit to running it, my naivety actually taught me many lessons that I'll be sure to take with me when I decide to actually train for what I believe will be my first time to really run a marathon and race it. If and when that time comes, I'll be sure to go back to the Akron Marathon because it feels like home. For more about my first marathon, go here.
ROSEMARY
I signed up for Columbus in the fall 2006 with one of my former teammates (the same first marathon as Salty!). Having a friend with me at the starting line eased my anxiety tremendously. Our goals were: 1) finish, 2) under 4 hours, 3) BQ. We only ran 5 or 6 miles together before nature called her to a Porto-potty, so I ran the next 8 miles with a mother of a 3-month-old from Virginia.
I loved the atmosphere and energy of the spectators and fellow runners. I remember feeling great through 17-18 miles, tired through 22, and exhausted the last 4.  My friend and teammate, Karen, stepped in with me for a few miles around 23 and saved my psyche. There were definitely some really slow miles and some walking the last 4 miles; I hadn't even finished yet and was already thinking "I'm never doing this again."
But then one of the runners I ran to the line with yelled out, "I'm going to Boston!!" and I realized I was too! I crossed the line in 3:31:30 hobbled to my boyfriend (now husband). I had pain in places I didn't know I could have pain. I swear my internal organs hurt!! We met up with my parents (best fans ever!) and everyone was ready for lunch except for me! I just wanted to go home, shower, and lay down. It was at least a week before I could walk normally, let alone run again![pullquote]Fact: 2006 was popular first-marathon year for us! Salty, Mint, Rosemary and Sassafras all ran their firsts that year. When was yours?[/pullquote]
I swore off marathons forever…until a grad school friend mentioned training for Cleveland the next spring. Being a Cleveland native, I thought, "that might be fun" and a marathon-lover was born. Ugh that Cleveland marathon is a whole 'nother story. Maybe for a "worst marathon experience" feature…
CINNAMON
A few weeks out from the start I started feeling pain in my knees and I was really nervous. It was almost certainly Runner's Knee, or Weekend Warrior syndrome, the result of low relative mileage during the week and high mileage on the weekends, a function of my average work week being 75 hours and wonky scheduling. I had been hoping for a sub-4 hour, and I knew I could do it, but my sister advised conservatism so I left the start of Cleveland 2010 with the 4:15 pace group.
Running with a pace group made a big difference for me! Chatting with the others in my group helped me tune out the worries and doubts about going too fast, too slow, being able to make it, what was coming next, staying on target. I never even concerned myself with math!  And my pacers were experienced and helped me feel secure, always answering my questions.
The other big help was knowing my family was there to support me. I was lucky that my sister (Salty, in case you didn't know!) coached me, and we chose a race in my hometown so that she and my mom could be there. Having my mom there was really important to me.  And my sister (8 months pregnant!) jumped in near the end and ran with me a few miles, which made all the difference. My mobile cheering unit pulled me out of a dark place and helped me find enough fire to launch myself to the finish.[pullquote]Cinnamon chose to run her first marathon away from her home in NYC because she wanted her family with her. Why did you choose the location of your first?[/pullquote]
Around mile 22 I knew I didn't need the pace group anymore. I realized that I had enough energy in my tank to kick some serious butt, so I abandoned conservatism and just ran how I wanted. I used everything I knew about racing 5ks and just started mowing people down, one by one, finding my comfortable stride getting faster and faster as the excitement of finishing became more of a reality. The next time I saw my sister was at mile 25, and I blurted out "4:10!" She cheered and told me to go get it, so that's exactly what I did. My last four miles were negative splits, decreasing almost exponentially until I sprinted across the finish line at 4:10:46, shouting a cry of victory! It was almost a perfect race, and my experience there makes me can't wait to chase down my next goal: 3:45. I know I can do it.
You can see my full race report here.
PEPPER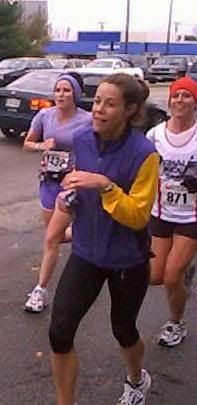 My first marathon was Richmond 2004, and the objective was to qualify for Boston so I could join members of my new running club in a Boston Marathon memorial run for two members who had just passed away. Since Richmond is a November marathon I was running my first and second twenty milers long after most of my friends had raced their fall marathon. The major takeaway is that if you want company during your training for a late fall race you need to recruit friends early or you will find yourself tackling 20 milers while your friends are taking it easy for the off-season!
That day I learned that marathons hurt! Really Bad! I concluded that anyone who did this for fun was insane, and promptly signed up for Boston a week later with my shiny new 3:39:42. [pullquote]Salty, Pepper and Rosemary all BQ'd in their debut marathons. Think that's a good goal for a first-timer?[/pullquote]
Most memorable moments included hobbling down a cobble stone street wondering if everyone else who had just run felt the same way. Cramping leg spasms ensued after I reached my gear bag and tried to change into flip flops. At mile 22 I had to hit the restroom and I contemplated staying there forever; no one would ever know, right? But I dragged my butt back onto the course, convincing myself I hadn't gone 22 miles to just throw it all away there in a port-o-potty. Thankfully my training friend caught me around this time and helped me to suffer through the needed pace to the finish despite very angry quads and calves. Very selfless considering he only needed a 3:45 to BQ!
MINT
My first marathon was the Green Bay Marathon in May 2006.  My husband, parents, sister and her hubby, my kiddos and my 2 nephews all came out to support me.  The photo (to the left) was taken at mile 25.5 and really tells the story of my day. My boys are standing up (James has his firefighter outfit on and Jake is standing next to him on the curb – look how little they are!!!).   My Mom is in the pink and my sis has the camera.  I was so blessed they all travelled with me to watch me accomplish my first marathon; that this one is by far my favorite photo from the race.  The photographer was my friend Joe, whose wife trained for Green Bay with me and one of my best friends, Amy.
It was such an amazing experience and so cool to have so much support.  My goal was just to finish, but secretly I wanted to go sub-4.  Everything feel nicely into place for me and I ran a 3:53:40.
* Check out my neoprene knee sleeve…I struggled with knee pain for years when I started distance running.  Funny that it is completely gone now that I run so much more.
SASSAFRAS

Picture it: Chicago, 2006… Having trained through a hot Kentucky summer and with only one 20-miler under our belts, my friends and I were not prepared for the reality of Chicago weather in October. Sure, we had lots of layers, but the wind, cold temperatures and even snow (!) messed with us all in different ways; for me it was leg cramps. During the last few miserable miles, I did make a friend named McKenzie. She was on her cell phone crying to her mom, and if I'd packed my phone I'm sure I would have been doing the same thing!
My goal was anything sub-4:29 (the Oprah Line), and instead I finished in 5:20. I learned you can't plan on just staying with your friends, not to go out too fast and to have a definite plan for reuniting afterwards. Trying to find each other in Charity Village (two of us ran for Team Tiara, the former name of Solemates, the Girls on the Run fundraising team) was pretty chaotic! [pullquote]Fact: 4 out of 8 marathoning Salties swore off marathons after their first time.[/pullquote]

I also learned about the beauty of having pizza delivered to the hotel post-race. After the race, the three of us made a pact that we'd never do another marathon and that if anyone started talking crazy talk, we'd talk sense into them!
CLOVE
One summer I was working as a lifeguard at an outdoor lake.  There was a path around the lake that was 1.25 miles, and I would see people run around it regularly.  I was getting bored with my exercise videos (does anyone remember "Gilad," "Fitness Pros," or "The Firm?"), so one day I decided to run.  1.25 miles around that lake in my Tretorns nearly finished me for good, but for some reason, I went back. By the end of the month, I was up to running five miles five days a week, and I capped off the summer with my first 10 mile run.  I couldn't walk for two days.[pullquote]Clove might be our star ultrarunner, but her pacing career makes her Salty Running's most prolific marathoner as well! How many have you run?[/pullquote]
This eventually led to marathons (of course), with a debut marathon of 4:09 in Buffalo in 1998.  I ran that first marathon in a white cotton long sleeve shirt from the Gap, paired with 1990's uber-trendy fuschia Umbro soccer shorts.  It was pouring rain to boot, which meant by the time I crossed the finish line, the hem of that awesome shirt (which would now be in a pre-race "throwaway" pile) was making a play for my knees.  But truth be told, I don't think that outfit had anything to do with looking cool (although I did love those Umbros) – it was simply what I had. If that's not embarrassing enough, I ran this marathon before timing chips!