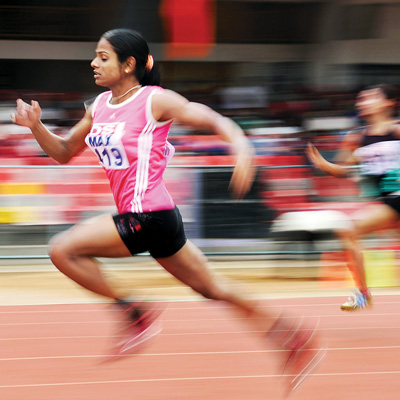 Back in the news again this week,  Indian Sprinter, Dutee Chand is appealing the Athletic Federation of India's ban on her competing as a woman. Chand became a national champion last year in the 100m and 200m at the age of 18 but was barred from competition by the Athletics Federation of India when her testosterone tested in the male range. She has the option of lowering her testosterone level and returning to women's competition. Instead, she filed an appeal with the Court of Arbitration for Sport in September fighting the ruling. It's my view that if Chand's appeal wins and she is allowed to compete without treatment, it erodes the integrity of women's sports. Here's why.
The International Association of Athletic Federations has a history of sex testing. In the early days of women competing in sports, before large cash prizes and endorsement contrasts, the pull-your-skirt-up method was used to verify men were not masquerading as women to claim an unfair advantage. In the sixties, it was replaced with genetic testing and for the next fifty years we saw just how hard it is to define the line between men and women in sports. Biological sex is not binary. When you try to draw the line all sorts of medical conditions get in the way. There are women with a Y chromosome, men with two X chromosomes, intersexed conditions and even women who simply lack the receptors for testosterone.  Women's sports have come quite far since those days. Now the line is a single number, an athlete's testosterone level, and in the case of transgender athletes, a two year wait after gender reassignment.
Chand is reported to have the condition hyperandrogenism, which results in her high levels of testosterone.  While we do not know the exact number, we know her testosterone level is in the male range, a line drawn by the IAAF at 10nmol/L. In the units we use in the US, that puts her testosterone level above 300ng/dL. To put that in perspective, mine was tested in my blood work last month at 22ng/dL and the normal range for a woman is about 20-60ng/dL
Maybe instead of separating athletes into men or women, they should be classified as "high testosterone" and "low testosterone." It doesn't matter what her or any athlete's gender identity is, that she has two X chromosomes, that there is an 'F' on her passport, or that she is most definitely a woman.  For the purpose of sports competition gender classification, the IAAF (and every other sports organization following IAAF's rules) uses only testosterone level as the criterion. The gender identity, shape of body parts, external sex organs, and even physical size are all arbitrary and meaningless as classification of competition gender. The size and dimensions of competitive men and women are all over the board and certainly overlap. In some cases, it all adds up to winning a genetic lottery, but for the rest of us, it is the arbitrary variation we were born with. The one thing that doesn't typically overlap is the massive gap between normal testosterone range in women and normal testosterone range in men.
In every running and swimming event in the Olympics, the speed gap between men and women consistently remains about 10%. For whatever reason, women in these sports can't compete with the men. While we might question the exact benefit testosterone plays for the men, there is no doubt that it has a significant role in endurance and strength.  Drawing the line with testosterone level is the best educated decision we can make right now. It would be unethical and impossible to do a large double blind scientific study swapping the testosterone levels of competitive men and women to see how their performance changes. In addition, the change in race performance for few transgender competitive women runners like Janet Furman Bowman and Johanna Harper support this measure of differentiation.
In short, if Chand wins her case, we wouldn't have men and women's sports, we'd have one field that women couldn't compete in.
The red herring is that when we finally reached our modern criteria for our two classes of athletes, we continued to call the classes  "men" and "women." What we really meant was "testosterone >10nmol/L" and "testosterone<10nmol/L." We technically could have created five levels of testosterone classes, height classes, and so on. But because of the large gap between testosterone between healthy men and women, it was a logical start and end for the classification system in most sports. Calling the classes "men" and "women" has nothing to do with the gender identities of the athletes, though in healthy adults it is neatly correlated.
Second, there is the question of whether performance enhancing side effects of an untreated disease can be considered an unfair advantage. Consider whether a typical woman with this condition would treat it. Consider whether it would be unethical to withhold treatment from a child. I think the answers are yes.
I say let Ms. Chand compete as a women with medical treatment. If hyperandrogenism is treatable non-invasively with common, cheap and generally safe generic drugs, why is she appealing the ban? Because the truth of the matter is, as much as no one wants to admit it, she won't be competitive anymore at the same level with her testosterone in the normal woman's range. I agree with  the Athletics Federation of India on this one.
The opinions expressed in this article are mine and mine alone. What's your opinion?