The other day I got to thinking: what makes a woman runner hardcore?  So first I did what any scientific-minded woman does and I polled my friends on facebook. Here's what they said:
Bridget: "I think what makes a runner hardcore is her commitment to the sport. The number of marathons/races doesn't matter. But consistency does. Repeatedly getting out there – even when you don't feel like it – makes you …hardcore."
Gina: "When the runner does things — thunder-tempos, pre-morning runs, a bazillion marathons — for her own happiness or edification… not for records, accolades, kow-tows or impressions. In sports there's the misconception that you have to be objectively 'good' at something to be hardcore. But I think it's about internal commitment more than external rewards or ranks."
Karyn: "I think a hardcore runner never has excuses and always strives to be better than she was the day before."
Ginger's Boyfriend: "not showering– recorded in miles, not days."
While my friends gave me a great place to start, I decided to take my research further and seek out a totally and completely random sampling of 5 women runners (some of whom may have run many miles without a shower) to explain what they think is hardcore.
Take it away, girls!
1. Amber Miller: Amber says hardcore is finishing the Chicago marathon at 39 weeks pregnant and then giving birth later in the same day.
2. Gladys Burrill: Gladys says hardcore is starting a marathon career at 86 and then becoming the oldest woman ever to finish a marathon at age 92.
3. Mimi Anderson: Mimi says hardcore is running 403.81 miles on a treadmill in one week, 6 days of which she ran with a broken toe.
4. Kerstin Mennenga-Metzler: Kerstin says hardcore is not settling for a 2:52:14 marathon running forwards. Oh no, hardcore is setting the world record for running a full marathon backwards in 4:42:39.
5. Sigrid Eichner: Sigrid says hardcore is completing your 1,667th marathon.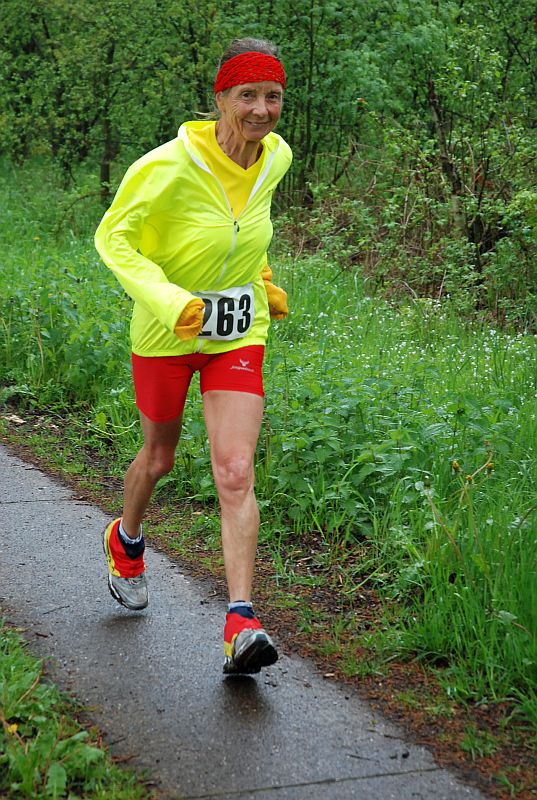 Now the last step in my quest for truth is to ask you. What do YOU think is hardcore?
This post was originally published on March 16, 2012.