This log contains three very different weeks: one Goal Marathon Race Week, one recovery week, and one week of work-and-play travel.
Race week
Monday 10/16 – 3.8 miles easy
Tuesday 10/17 – 2.5 miles easy
Wednesday 10/18 – off
Thursday 10/19 – off
Friday 10/20 – 3.7 miles easy
Saturday 10/21 – 20 minutes easy without Garmin
Sunday 10/22 – race day! Short version: Made some sensible decisions regarding weather and life stress, had a pretty good day, and took nearly 35 minutes (4:19:38) off my last marathon PR (4:54:17) despite cramping and heat. Goodness. Race report to come.
How I felt.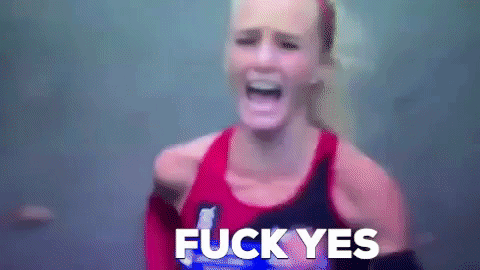 How I looked. (*Not* like Shalane. But Team Both Feet Off The Ground 4eva!)
Recovery week
This week was much less exciting than the last. I spent it frantically catching up on work before a major project/ conference, so I did a little less moving than I wanted. I usually find a teeny tiny bit of gentle walking or cycling post-marathon really helps with soreness, and scratches that itch to move without being too damaging.
Monday 10/23 – lots of foam rolling
Tuesday 10/24 – some Jasyoga moves (I could yoga for free from YouTube, but Jasyoga has a couple of innovative, useful and gentle runner-specific stretches that I haven't seen anywhere else)
Wednesday 10/25 – off
Thursday 10/26 – off
Friday 10/27 – 2 miles
Saturday 10/28 – off
Sunday 10/29 – 3 miles
Work travel week
Monday 10/30 – Ran errands, 2+ miles: the Strava map looks like an erratic zigzag. Flew to London that night.
Tuesday 10/31 – off, work. Brought a bag of Reese's peanut butter cups for my UK colleagues, in the spirit of American Halloween. Half of them were delighted; the other half befuddled.
Wednesday 11/1 – off, work
Thursday 11/2 – off, conference in Oxford
Friday 11/3 – off, conference in Oxford and travel back to London
Saturday 11/4 – Took the train out to Wiltshire in southwest UK to see C, an old running friend who'd moved back there from California! We did a gentle 3 miles in the late afternoon before Bonfire Night (a British institution / bit of quirky history).
Sunday 11/5 – Had just enough time in the morning for 8 miles of trail running happiness with C.
Then I washed off all the mud, had a hot drink, and boarded a series of trains and planes and cars that brought me home to Boston.
All in all, that was a pretty excellent three weeks. I'm not racing for the rest of the year, though I might do a fun 5k or something, so I might shoot for some sort of low-mileage run-streak through December 31.