It's my birthday! It's my birthday! It's my birthday! Woo! The big 3-7. And in honor of this monumental occasion (getting more monumental every year), I thought how fun would it be to come up with my dream gift wish-list.
So at the huge party in my dreams with all 7 Salties together with the rest of my family and friends, here's what I'd like to find underneath the wrapping paper and bows.
1. The Nike G87 striped tank in every color ever made. I picked one up in lavender at my local Fleet Feet and I LOVE it! It's the perfect maternity running shirt. I'm sure that wasn't Nike's intention, but it turned out that way for me! It's long and a little stretchy and way cute and comfy on hot summer days. Unfortunately, it's been discontinued and I was only able to snatch up another one in silver. If you find them in the blue or pink, let me know!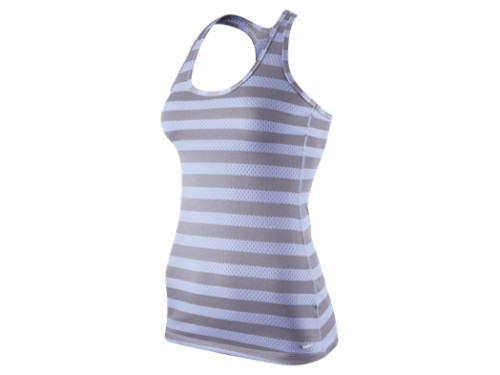 2. 10 pairs of Lunar Glide 3s and 2 pairs of Lunar Racers. I'd prefer assorted colors. This should be enough shoes to get me through to my next birthday!
3. 200 hours (about 4 hours a week for a year) of babysitting vouchers. I love my kids, but boy once we have 3 it's going to be really tough getting runs in on the days son is not in school!
4. 26 bi-weekly massages with Karalyn Swope. Karalyn is the most amazing massage therapist. She's insightful and curious and does great work. She is always challenging herself to learn more about the athlete's body and it shows. When I was dealing with my mystery injuries over the winter, it was Karalyn who figured out what was going on and put me on the path to recovery. If you're in the Cleveland area, check her out now! Karalyn didn't pay me to rave. My Karalyn love is straight from the heart!
5.  Two round trip tickets to Paris, a week long stay in a boutique hotel in Montmartre and a Marathon de Paris race entry! Is it a coincidence that the next Paris Marathon is the 37th anniversary race? Of course not! I love Paris. I love my husband. I love running. What could be better than a romantic trip for two to the city of love, a quick 42.2 k jaunt beginning on the Champs Elysee, passing the Eiffel Tower at mile 18 and finishing within site of the Arc de Triumphe? Perhaps eating amazing cheese and bread and cheesy bread and drinking delicious french coffee and wine with my favorite person in the whole world! Oh and I'll need about a bazillion dollars to shop. Then it would be perfect!
Mike, if you're reading this you can quit the charade. I know that birthday card is just a ruse and the crate full of singlets, shoes, babysitters, Karalyn and our plane tickets to Paris is waiting for me right over …
For real my husband took the day off of work and my mom's coming to watch the kiddos. First we're going to get our first ultrasound of #3 and then who knows what's in store! So of course I really want to find out we're going to have a healthy baby in 6 months. That would be the best 37th birthday gift! Oh and world peace and a cure for cancer and … you get the idea.
What's on your dream birthday gift list?
Disclaimer: I am sponsored by Fleet Feet Cleveland and Nike Running.